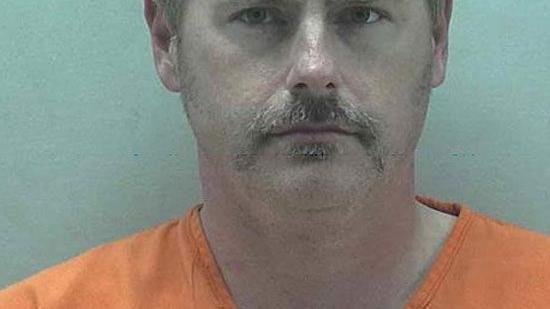 A political candidate. A blogger who held grudges. A bombing suspect. All of the above describe Eric Krieg, of Munster.
A year after being arrested and charged for a device that caused an explosion at an East Chicago postal facility, Krieg gave himself another label: guilty.
Krieg, 46, of Munster entered a guilty plea to knowingly making an unregistered destructive device, a destructive device, malicious use of explosive materials, and mailing a threatening communication, according to a news release from U.S. Attorney Thomas Kirsch on Tuesday.
The parties agreed on a sentencing of 29 years in prison and the plea hearing will go before U.S. District Court Senior Judge Joseph Van Bokkelen in the Hammond Federal Courthouse, according to the news release.
The explosion happened Sept. 6, 2017, at an East Chicago postal facility and Krieg was arrested in October 2017 and has remained in custody since.
Hammond Mayor Thomas McDermott said if Krieg serves the minimum sentence of seven years, it will be a failing of the justice system. A family attorney of McDermott's was the first person targeted by Krieg, however the package was blown up before it reached him.
"I'm going to be sitting in the courtroom with my fingers crossed," McDermott said. "If this guy gets out in a few years, Will I have to wonder my life or my staff? Will I have to look over my shoulder for the rest of my life? This man 's terrorist and he deserves to be sentenced like one. "
A blogger who held grudges
In his plea agreement, Krieg said he ran a blog and engaged in "a series of online postings and communications regarding other residents in Northwest Indiana," where the grudges that fueled his decision to create and mail the explosive stemmed.
Kreig, who had run for Lake County offices in the past, posted political blogs under the nickname "Buzzcut."
Krieg said the first victim was a Schererville attorney who represented a client who filed a lawsuit against him. Krieg was sued in 2013 because of statements he made on his blog about Aaron McDermott, Mayor Thomas McDermott Jr.'s brother, being arrested.
Krieg filed a bankruptcy in response to the suit, but Aaron McDermott's attorney, David Westland, said the lawsuit could not be discharged with bankruptcy and Krieg agreed to settle the lawsuit by Aaron McDermott for $ 45,000 and posting an apology on his blog.
"In retaliation for the filing and settlement of this case and other grudges I held, I planned a plan to build a bomb and I believed and believed would kill or injure Victim 1," Krieg's plea agreement said. "I constructed this pipe bomb and knew it contained explosives and items that would produce shrapnel. The pipe bomb was built in the Northern District of Indiana. The pipe bomb was not registered in the National Firearms Registration and Transfer Record. "
However, the bomb exploded at an East Chicago post office and injured a pregnant woman.
"On September 6, 2017, I placed the pipe bomb in the mail by delivering it to the United States Post Office, 901 East Chicago Avenue, East Chicago, Indiana and ensuring it had the appropriate postage," Krieg's plea agreement. "I I was aware of the pipe bomb exploded before it was delivered to Victim 1 and the injured Victim 2, a postal worker. I damaged the Post Office where the pipe bomb exploded. At the time of the explosion, the Post Office was used in interstate commerce or was used in an activity affecting interstate commerce. "
Another person, labeled as "Victim 3" in the plea agreement, was targeted because Krieg said he was upset and held a grudge against the Northwest Indiana resident whom he engaged with online.
According to the U.S. Attorney's office, Krieg was charged with sending the threatening letter received Sept. 29, 2017, by a Hammond city worker, which contained a bullet and a note that said, "The next one will be in the back of your head."
"On September 29, 2017, I mailed a threat to kill or injure Victim 3," Krieg's plea agreement said. "I placed this threatening communication in the mail in the Northern District of Indiana and it was postmarked to, and I am now aware later after delivery to, Victim 3 in the Northern District of Indiana."
Criticism against the Lake County surveyor's handling of drainage projects and against the Hammond mayor's campaign spending has been among the political scuffles Krieg has been the center of over the years.
In 2012, Krieg butted heads with George Van Til for the position of Lake County surveyor as a Republican candidate and also ran for County Council a couple of times.
Kreig is also a former BP Whiting Refinery Engineer and the father of four children, according to The Times' archives.
In December 2017, Krieg pleaded not guilty to making and mailing the explosive devices and threatening note.
In April 2018, he requested a delay for his federal trial, in which he was originally set to tried in late May.
U.S. District Judge Joseph Van Bokkelen agreed to give Krieg and his defense attorney, Kevin Milner, several more months to prepare for a jury trial, which was scheduled to begin the week of Nov. 5.
Assistant U.S. Attorney Jennifer Chang opposed the defense's request as an unreasonable delay, arguing that the injured postal worker was at the time and has undergone both emotional and physical distress.
Chang also argued the person who Krieg intended as the target of the bomb had gone through the months of the trial and planned the trial to proceed rapidly.
In October, the U.S. Attorney's office announced that the jury trial had been reset for June 2019. Krieg asked in court to be delayed again to give his attorney time to prepare.
According to the U.S. attorney's office, Krieg's plea hearing will occur "in the near future."
Munster man's bomb trial reset for June after September 2017 Explosion
Krieg seeks third delay in bomb trial
Who is Eric Krieg? The East Chicago post office bombing suspect in the pages of The Times
Source link