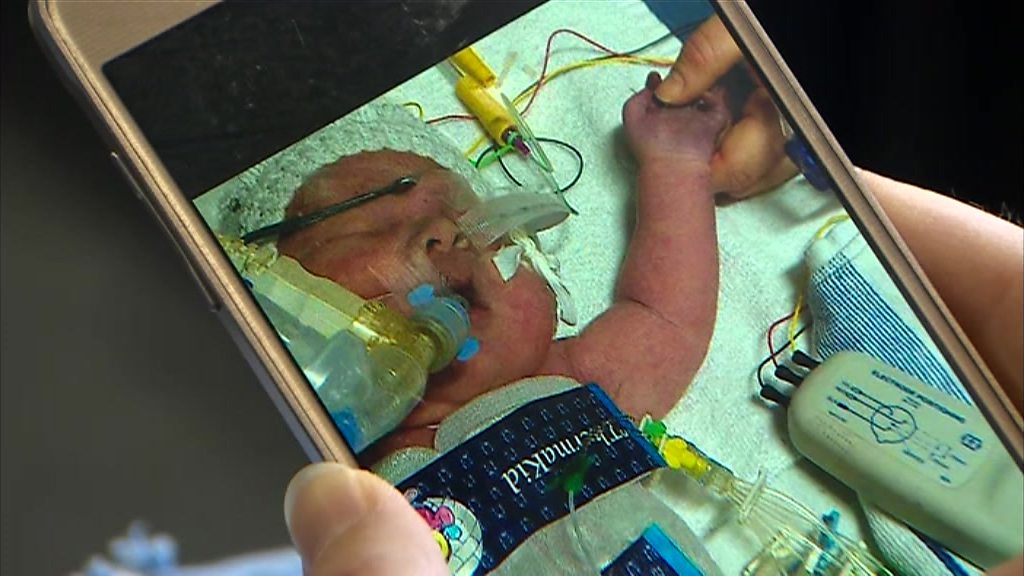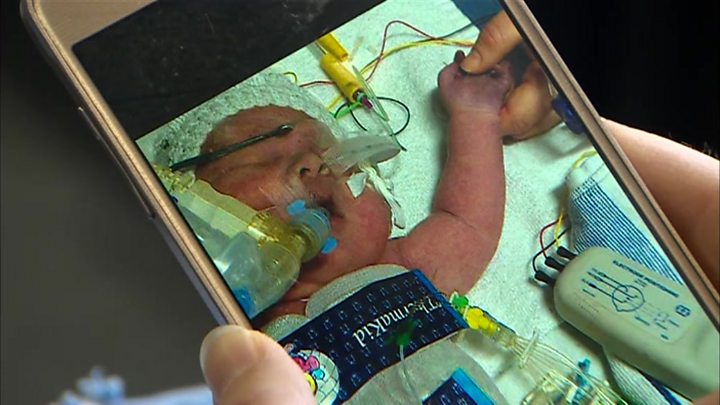 There is a "culture of bullying and harassment", a report has revealed.
Shrewsbury and Telford Hospital Trust (SATH), which is already in special measures, has now been rated inadequate by the Care Quality Commission (CQC).
Emergency and maternity services at its two hospitals were deemed unsafe.
Trust chief executive Simon Wright said: "You can not be unaffected by a report like this."
The 112-page report, published on Thursday, lists a cataloging of issues at the Royal Shrewsbury Hospital and Princess Royal Hospital in Telford, Shropshire. The trust was previously rated as "requires improvement" overall.
It is currently being investigated over alleged maternity failings, with more than 200 families raising concerns about care at the trust.
It has recently been abandoned by Telford's A & E department because of a shortage of doctors, drafting in extra staff instead.
Inspectors said as well as the bullying and harassment claims they found a culture of defense from the executive team.
They also found:
There was low morale among the staff and high levels of stress and work overload
Medical care, surgery, critical care, end of life at both sites require improvement
Medical and nurse staffing "was not adequate to keep patients safe" especially at Telford
A temporary midwife-led unit at Shrewsbury being used after its original building was damaged by snowfall last December was deemed "unfit for purpose" with senior staff "crisis-managing".
There has also been a shortage of midwives due to sickness and maternity leave, the report found.
Analysis
By Michael Buchanan, BBC social affairs correspondent
This damning report will be for families who have lost children as a result of errors by this trust.
Speak to any of them, and their fervent wish is that nobody has to go the same experience as they did.
The continuing inability of the trust, therefore, to ensure the heart rates are properly monitored and the failure to learn lessons after incidents, smacks of a callous arrogance towards those families.
Fundamentally this is a trust that has been badly led for years.
Today's report is stark in its denunciation of the current management – not all of them have the "right skills and capilities" to provide "high-quality sustainable care."
Chief executive Simon Wright insists he is not out of his depth, but under his watch the trust has demonstrably deteriorated.
The recently appointed chairman said on Wednesday that they can not carry on the same things with the same people.
The growing chorus in Shropshire for Mr Wright to resign will certainly hope so.
The CQC has given a range of improvements to make up to 81 issues to be tackled, including ensuring staff are trained to protect patients from harm, and reviewing midwife staffing levels to keep women and babies safe.
It said the trust should also improve how it escalates cases of women at high risk at the midwifery-led unit or day assessment unit and review its policy on reduced foetal movements for midwives and sonographers.
Other required improvements covered the safety environments, speeding up complaints handling, the safe storage of medicines and records and the administering of antibiotics for patients with suspected sepsis.
However, inspectors rated the trust as "good" and found they found "examples of outstanding practice in end of life care services at both sites" as well as in its postnatal maternity care.
The trust said some of the CQC concerns were addressed through recruitment and improved reporting by its maternity services.
Professor Ted Baker, chief inspector of hospitals at the CQC, said: "While we found staff to be caring and dedicated, there is clearly much work needed at the trust to ensure care delivered in a way that ensures people are safe.
"We remain particularly concerned about the emergency department and maternity services at Shrewsbury and Telford Hospital NHS Trust.
"We have already taken urgent action to protect people and we are monitoring the trust very closeely."
Chief executive Mr Wright apologized and said the trust was "disappointed that we did not make as much progress to tackle the issues and challenges that the Trust faces as we all want".
"But people should not miss the sight of many things that Seth does not just but significantly better than many other trusts around the country."
An independent review into a series of baby deaths at the trust was commissioned by the government last year.
Previously, an estimated 3,000 people marched in protest against ATH EA, with the citing staff shortage for its decision.
Source link