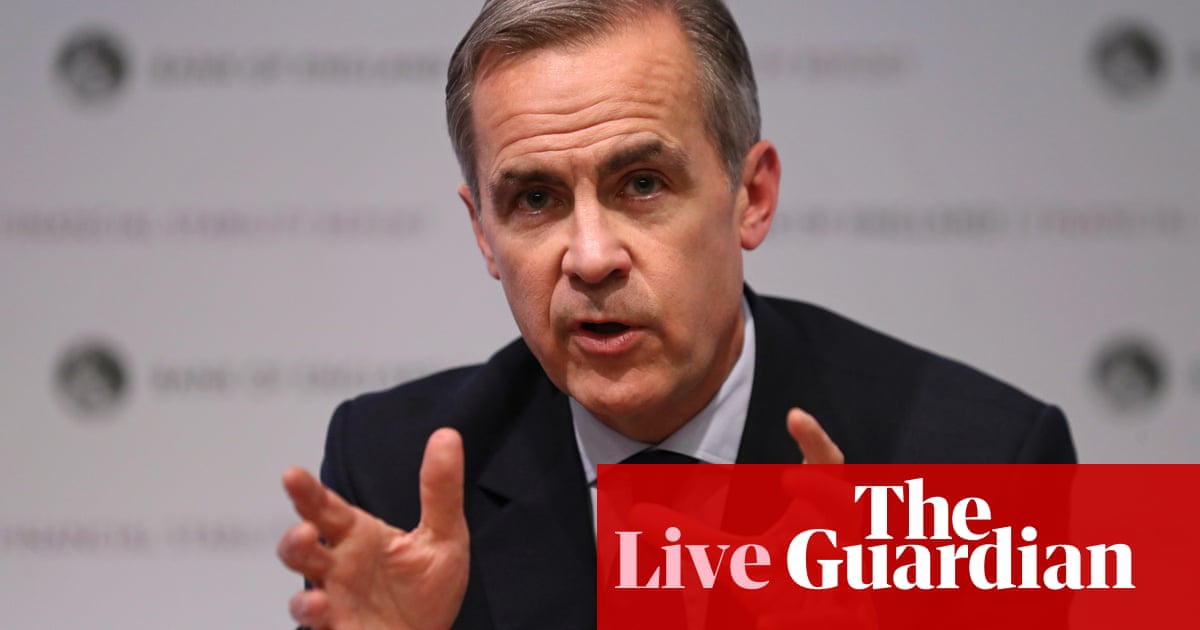 Snap summary: Carney walks tightrope in brexit storm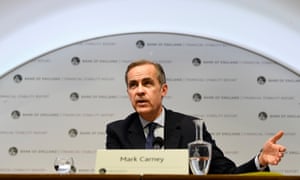 For a man apparently peddling 'Project Hysteria', Mark Carney sounded remarkable reasonable on the Today program.
It helps that the UK banking sector passed the BoE's stress tests yesterday – meaning at least one part of the economy can handle a disorderly brexit in March.
Unfortunately, as Carney pointed out, the rest of the country is not in such good shape.
The Bank is clearly deeply concerned that more than half of British companies have taken precautions for a no-deal – either because they can not face it, or because they face insurmountable new checks and long delays at the ports.
This has left Carney walking a tricky balancing act – arguing for a transition arrangement in one breath, and insisting it's not up to him to say what flavor of brexit is best in the other.
As Carney puts it:



"It is in the interests of the country to have some time to transition to what relationship there is.
Carney verged close to the limit of central bank independence at one point, when he felt that Britain may need to extend the implementation period (to the current withdrawal agreement) to give UK enough time to prepare.
That would not please Brexit-supporting MPs, who want a clean break as soon as possible.
And what about the BoE's apocalyptic predictions that Britain might suffer the worst economic carnage (Carney-age?) In decades?
The governor seems to suggest we treat it cautiously:



It's not what's most likely to happen but what could happen if everything goes wrong.

"These are very low probabilities – this type of worst-case scenario."
Predictably, There's a mixed reaction to Mark Carney's latest comments.
James Duddridge, Conservative MP for Rochford and Southend, is not a fan – arguing that the governor is failing to be impartial.
Some Today's listeners were more impressed, though:
Carney: We need to get prepared for Brexit
Q: Are you worried that if Brexit goes belly up, people may blame you for sounding so incredibly gloomy and scaring everyone?
No, Mary Carney replies, returning to his key point – that Britain needs to be ready for Brexit (and it's not yet)



The problem is readyness. The thing that people do not need worry about is the financial system – it will be there for them.

They can focus on what's more important.
[reminder: Britain's biggest lenders all passed the Bank's 2018 stress tests yesterday, meaning they could survive a disorderly Brexit]
Carney ends his interview by insisting that the Bank is only a sideshow in the Brexit drama.



The financial system is just a servant of the economy, and it's been far too center for far too long.

What happens to this economy, very important decisions are being made by others.
That's the end of the interview. I'll wrap up some reaction now.
Updated

Q: What is so good about Theresa May's Brexit deal?
Mark Carney plays a straight, technocratic bat, saying it's not up to him to choose between different options:
Brexit is a unique situation, where there's a potentially substantial change in the trade relationship with our biggest trading partner. In that situation, the central bank's job is to make sure the financial system is prepared, the governor says.
Carney: Britain needs a Brexit transition period
Q: 10 years ago, Congress voted down the US bailout, the markets plunged, and then they quickly passed it (this is the TARP drama of 2008). Could it happen again?
Carney insists he will not speculate on what might happen in Parliament.
But he repeats that Britain's economy needs more time to get ready for life outside the EU, saying:



Parliament will determine the type of brexit, and the path we take to get there.

It is advisable to have a transition to whatever form of Brexit Parliament chooses
Updated

Q: So the reality is that we're not ready, so what happens when MPs vote down Theresa May's Brexit deal on December 11?
Carney declines to discuss the hypothetical scenarios (!), But repeats that a lot of work still needs to be done for a no-deal brexit.
"Best as we can tell", the country's businesses and infrastructure are not ready yet.
Carney says there needs to be an objective view taken about how much time is needed, in an implementation period after Brexit.
He points out that the deal last weekend allowed the implementation period to be extended
Q: Is that a good idea?
From a financial system perspective, an 18-24 month period is enough, Carney replies (ie, the base case in the Withdrawal Agreement).
For the economy as a whole … it's up for others to say, he adds.
Updated

It is sensible to take a "sober, objective view" about how much time we need to get where where we're going with Brexit, Carney adds.
Updated

Carney: We're not trying to scare anyone
Q: But your critics say you are playing politics, trying to scare people …. Andrew Sentance, a former bank policymaker, says your analysis is 'highly speculative and extreme'.
Carney denies it, saying:
We have a broader responsibility to get the system ready for whatever happens, and we've been doing since the referendum.
Parliament demanded this analysis, but it is with an analysis – to get the financial system ready for whatever form of Brexit the country takes.
Q: Are not you trying to scare people into accepting the sort of brexit you want?
I do not have a preference, Carney insists.
But he does agree that the Bank "prefers a transition" period (as in Theresa May's plan)



It is in the interest of the country to have some time to transition to what relationship there is.

We know from our contacts with business that less than half of the businesses in this country have intiated their contingency plans for a no-deal brexit.
Q: But a company boss, maybe the CEO of Nissan, could hear your apocalyptic scenarios and say 'my god, I've got to get out of here'?
Carney says company bosses are also responsible for preparing for the worst case scenarios.
They understand what the bank is saying, and they will not misinterpret it.
Carney interviewed on Radio 4
Mark Carney's interview with John Humphrys is on the Today Program now.
Q: What's the difference between a forecast and a scenario?
The governor says its the bank's job to look what could go wrong with Brexit – tariffs, problems at the ports, financial markets fall.
It then puts these "very negative" outcomes into a scenario, to determine what will happen to the banking sector, and then ensure the banks have more than enough capital to absorb those losses.
Then we know, they know, and the public knows, that they're able to cope.
As Carney puts it:



It's not what's most likely to happen. It's what could happen if everything goes wrong, and we use that to help make things go better.
Mark Carney insisted many times yesterday that his Brexit analysis was a scenario, not a forecast (although this fine distinction gets lost).
Our economics editor Larry Elliott explains:



The Bank is not about saying that the economy is going to shrink by 8% in one year. For that event, three conditions would need to be fulfilled: the UK would need to leave the EU without a deal next spring; That departure will come as a bolt from the blue; and it would prompt punitive action from Brussels. "It is what could happen," Carney said, "not what's most likely to happen."
But even so, this could be a final attempt to spook MPs into backing Theresa May's Brexit deal, Larry adds:



In the weeks leading up to the EU referendum in June 2016, both the Bank and the Treasury issued warnings of the bad things that would happen in the event of a vote to leave, none of which came true. This time the constituency is much smaller: the 600-odd MPs who will vote on May's EU agreement next month. It looks like the last roll of the dice.
Mark Carney's Brexit analysis is in front of the UK front pages today.
The Telegraph leads the coverage of the criticism of the governor, saying he has 'project hysteria'.



"Mark Carney has been accused of undermining the Bank of England's 'independence and credibility' after publishing an analysis of the economic impacts of no deal so bleak it has been dubbed 'project hysteria'."
Here's a full round-up:
Introduction: Bank of England under fire over Brexit forecasts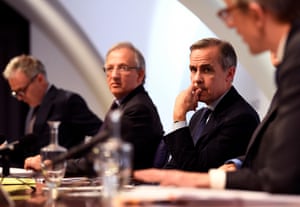 Good morning, and welcome to our rolling coverage of the world economy, the financial markets, the eurozone and business.
Mark Carney, the governor of the Bank of England, is in the eye of a political storm today after warning that a no-deal Brexit could plunge Britain into the worst recession since the second world war.
Analysis released last night warned that the economy would shrink by an eye-watering 8%, house prices would plunge by a third, sterling would be slump to parity with the US dollar, and the interest left will be the EU without a deal.
Carney's message was clear – the economy would suffer badly from a no-deal scenario, and many companies simply are not ready.



"Evidence from surveys and other UK authorities suggests that the country is not yet fully prepared for a cliff-edge brexit."
In sharp contrast, the Bank also provided Theresa May with some support – arguing that her deal would be better for economic growth.
However, it also predicted that GDP would have been at least 1% higher in five years' time if the UK had voted to remain; a boost to those pushing for a People's Vote on the final deal.
Carney's critics (and he's attracted a few since joining the Bank in 2013), have accused him of undermining the Bank's independence and credibility.
One (alas unnamed) minister has told The Daily Telegraph that the analysis is "mad, bonkers and b —— s" (I do not think the 'b' is for brexit …)
Eurosceptic Jacob Rees-Mogg went especially low, dubbing Carney a failed second-tier Canadian politician – a jibe that attracted some stinging rebukes over his attempts to overthrow Theresa May.
Justice secretary David Gauke Has also weighed in:
Anyway, Carney can defend himself – and he'll have to this morning. He's due on Radio 4's Today program shortly to the Bank's forecasts.
The agenda
8.10am GMT: Mark Carney interviewed on Radio 4
10am GMT: Eurozone consumer confidence released
1.30pm GMT: US personal consumption stats
7pm GMT: Minutes of the US Federal Reserve's November meeting
Updated