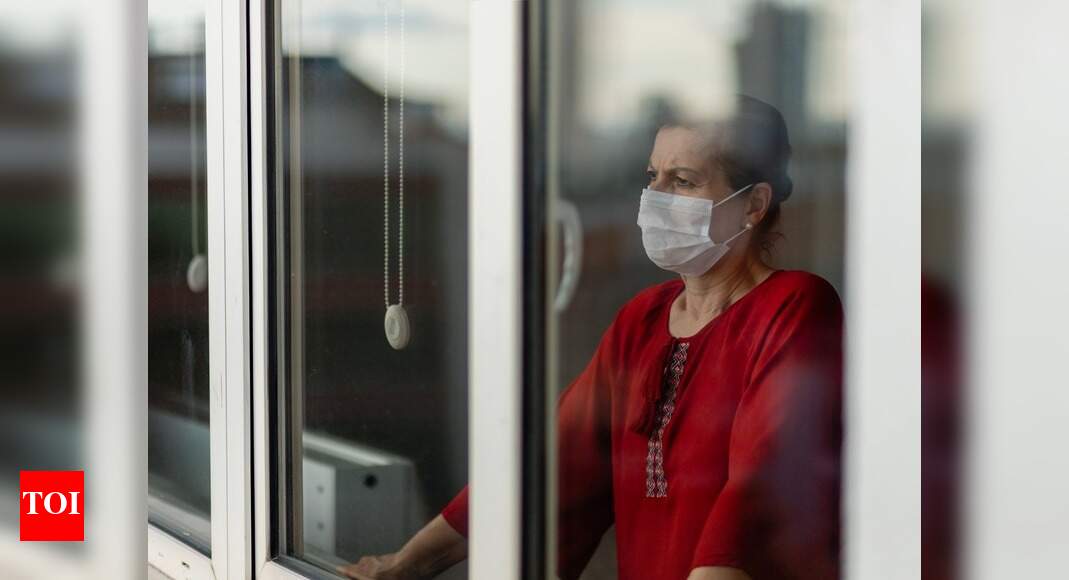 [ad_1]
COVID-19 causes the most complications in the elderly. KK Pandita had this experience when Kovid-19 influenced his parents. Instead of letting his worries get the better of him, he took isolation measures and turned his home into a health center. Read his story to know the importance of recognizing the early symptoms of the disorder and the steps to take to recover.
On September 26, 2020, my 79-year-old mother had been complaining of anorexia and weakness for the past few days. The next day, when she was given pre-dinner insulin, my 19-year-old son realized she had a fever to touch. Her body temperature was 101.4 degrees Fahrenheit. When inquired about other symptoms, she revealed that she had felt unwell the previous day and was relieved by vomiting the food she had eaten. My son had heard coughing in the washroom but she denied complaints of shortness of breath and coughing. They commented that it was trivial. In view of the ongoing COVID-19 pandemic, I isolated her in one room and my 86-year-old father in another room on the ground floor of our house. The radiologist's wife, 14 – year – old daughter and son moved the rest of the family to the first floor. We kept the whole house ventilated by leaving all the windows and door shutters open, switching on all the exhaust fans and ceiling fans and turning off all the air conditioners. My wife and I always wore masks and protective glasses when working in the kitchen on the ground floor. When I went to my parents, I was wearing a face shield, hat and gun. The next day, a private laboratory technician took blood samples from my parents' nasopharyngeal cysts. By the thirtieth day (list) reports are ready. Both parents tested positive for SARS Cov 2 RNA provided by RT PCR. Now I keep both in the same room. Communicating from a distance while wearing a face mask was a frustrating experience because both have hearing impairments. To alleviate this frustration, I sometimes tried to communicate with them by phone. My father, who suffers from persistent CPD, recently reported a mild worsening of his cough. My mother's general condition worsened. She complained of profound fatigue, marked anorexia, and the unpleasant symptom of "my stomach shaking." She vomited every day. Her SpO2 was 86-88%. She advised him not to breathe. Her previous history was marked by a few chronic illnesses: type 2 diabetes mellitus (taking 12-16 units of insulin daily); Hypertension (Telmisartan 80 mg, chlorthalidone 12.5 mg, amlodipine 5 mg daily); Paroxysmal atrial fibrillation (at 100 mg amiodarone per day); Amiodarone-associated hypothyroidism (levothyroxine 37.5 mcg per day); Rheumatoid arthritis (prednisolone 1-2.5 mg, leflunomide 20 mg, hydroxychloroquine 400 mg daily); Neurogenic bladder and sacral anesthesia due to persistent discogenic lower chord myelopathy. My mother begged me not to be admitted to the hospital. I decided to control them at home. Fear of being affected by COVID-19 was so high in the community that all my known paramedic colleagues expressed an inability to help me inject intravenous (IV) cans and give parenteral medications. For the past 20 years, since my residency days, I have been out of training in doing these important jobs. With my counselor's telephonic encouragement, I secured the IV lines and subdivided the daily dose of remdecivir 1, dexamethasone, antibiotics intravenous and enoxaparin every day from September 30th to October 4th. I gave my mother oxygen therapy through a nasal spray, kept her SpO2 92-95% 2, and encouraged her to lie down in a better position. During the day, I breastfeed them on the open porch (photo) of the house, believing that the risk of infection in the open is very low. The mother became pregnant two days after starting treatment. Her other symptoms were lethargy, inattention, and "stomach shaking" — not much better. She gets irritated when I force her to eat. She continued to puke every day. On October 6, her condition worsened. She was upset, complained of central chest pain, and vomiting. She could not pass urine. Her blood pressure was below normal. Her pulse was irregular, indicating atrial fibrillation. I rushed her to the hospital and she reluctantly agreed. Echocardiography and ECG were confirmed by cardiologist AF. HRCT of her chest on the same day showed that both parties were resolving moderate-severity pneumonia. (Photo) I took her home the same evening. Through a glucometer, she marked hyperglycemia with a blood sugar of 438 milligrams per deciliter. I gave her IV fluids, persuaded her to take oral fluids, and gave her insulin every 4 hours, almost like following the Montefior DKA protocol. She was able to sleep well. She recovered, but her vomiting and intestinal symptoms persisted. When reviewing the COVID-19 literature, I found that 10% of patients with this disease have only clinical interactions with small intestinal segmental dilation and stenosis. 5 I gave her oral domperidone, a gut prokinetic, and only 10 mg of solid liquid food a day. Her vomiting stopped. On the third day of this new rule, they began to demand solid food. Since October 12, she has maintained her SpO2 at 93-96% when breathing atmospheric air. She revealed that she has a "dim consciousness" all these days. They can remember events in the wrong temporal order. No one else in the house developed symptoms like COVID, and my wife and I tested negative for the corona virus. Maintaining appropriate care for COVID-19 patients while protecting other employees was a challenge. More than three weeks after the onset of the disease, the mother still tested positive for SARS Cov 2 RNA.
Learning Experience:


Intestinal symptoms are the main symptoms of COVID-19 disease. These require special symptomatic treatment.

If local governments organize and mobilize available human health care resources available in the area, COVID-19 patients who do not require ventilatory support can be cared for at home. It's not my deepest emotion, it's my experience.

Have you been exposed to COVID-19? We want to hear all about it. ETimes Lifestyle invites all COVID survivors to share stories of their survival and hope.
Write to us at [email protected] with 'My Covid Story' in the subject line.
We will publish your experience.
The views expressed in this article should not be construed as substitutes for physician advice. Please contact your treating doctor for more information.
[ad_2]
Source link