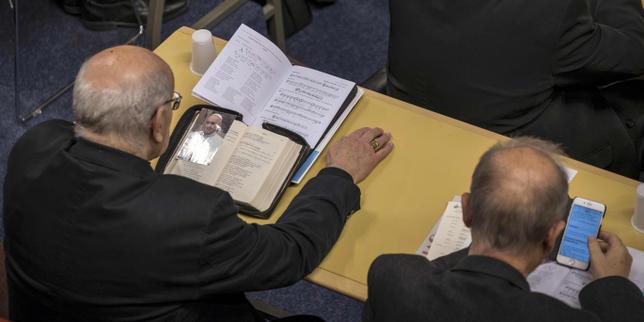 [ad_1]
Eight people who suffered sexual violence from the priests testified on Saturday at the autumn plenary session of the French bishops.
THE WORLD
|
|

by Cécile Chambraud (Lourdes, special correspondent)


Lourdes (Hautes-Pyrénées) this year "The guests" Catholic bishops. This is how Bishop Luc Crépy, President of the Permanent Unit of Pedophilia (CPLP), summoned the clerics of sexual violence. Eight of them, men and women, at the autumn plenary session of the 118 bishops, on Saturday, 3 November, were divided into four groups before the 118 prelates.
This "invitation" is the first. Despite the constant discovery of the extent of pedophilia cases involving Catholicism in serious crises, this was the first time that the French Bishops' Conference (CEF) was a six-monthly meeting.
Over the past few weeks, the criterion of selecting "guests" has revealed the reluctance that this approach raises in some part of the Catholic hierarchy.
The later representatives of La Parole libérée, who were subsequently invited at the request of the victims raised by CEF, were ultimately refused because they were unable to speak in plenary. This alliance, founded by the victims of Lyon priest Bernard Preynat by the end of 2015, allowed many victims of clerics to escape their silence.
They suspected a few preaches of the Church's attack and sought to abandon the archbishop of Lyon, Cardinal Philippe Barbarin, accused of covering the pedophile priest. With a direct quotation from the alliance, a hearing is held in January to release the denunciation.
"We did not want to hear us"
But it is not certain that the testimony of the two "guests" who agreed to talk to the press on Saturday night in Lourdes ultimately does not report the Catholic hierarchy.
After defending the faith despite the abuses suffered, Véronique …
[ad_2]
Source link